Win over Nebraska caps perfect regional for Mizzou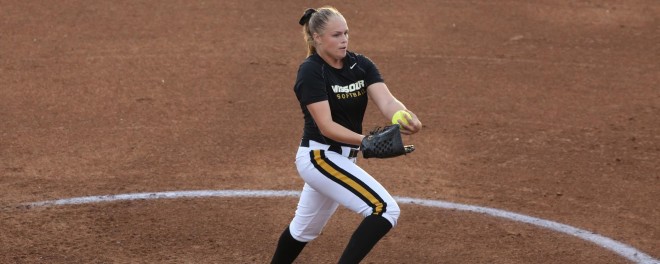 As the Missouri softball team lined up to chant "M-I-Z" after winning Saturday's regional finale, coach Ehren Earleywine sat back and waved. For a weekend, he and his team prevailed.
It was the de facto senior sendoff at Missouri's University field, and it came as no surprise that seniors Taylor Gadbois, Emily Crane and Sami Fagan were the first on the board for the Tigers against Nebraska.
With one crack of the bat in the opening stanza, a determined Fagan roped a double to right center scoring Gadbois and Crane, and the Tigers didn't look back. Missouri scored six in that first inning, propelling them to the lead, the 9-0 victory and ultimately the super regionals.
"Sami has been struggling a little bit, but I knew right off the bat it was going to be hard to beat us when she hit that double to right center," Earleywine said postgagame. "There could not have been a more ideal scenario than this weekend."
To Earleywine's point, Missouri was flawless all weekend — like literally, flawless. They didn't give up a run, they only allowed seven hits and that was all due in part to sophomore Paige Lowary's performance.
Through three games, Lowary pitched 17 innings, and 266 pitches later, Lowary said she could still pitch more. Earleywine even entertained the idea of trotting her out had Mizzou lost.
"I honestly thought she could go both games today if we lost the first one," Earleywine said. "I had intended for her to go 14 innings."
Due to the double hit by Fagan, though, and a three-run home run by junior catcher Kirsten Mack in the top of the first, Lowary was able to pitch freely, meaning a second game was always in doubt.
"The good thing about being up 6-0 was that Paige could go right after hitters," Mack said. "That contributed to Paige throwing no walks and that's why it's so key that we do get ahead because Paige is so good when she can pitch ahead."
And pitching ahead she did, which allowed Mizzou's lineup and Fagan to pile it on. With a two run double in the fourth, Missouri was in the driver's seat, giving them the victory in the fifth, their eighth regional title under Earleywine.
All in all, it was a weekend filled with emotions with the ongoing Mizzou athletics investigation into Earleywine. Although the protest was over, it was evident that the players remained inspired.
"Even on the other side of it, you could see this inspiration in their play," Nebraska coach Rhonda Revelle said. "Missouri playing like they are right now, I think they can compete with anyone in the country."
Next up for the Tigers will presumably be No. 2 overall seed Michigan, a team that beat the Tigers 13-0 in early March. Lowary, who pitched that game, is ready for revenge.
"Last time we played them, it wasn't our best game," Lowary said, "but we're clicking right now offensively and defensively and we're ready to play whoever."
Most likely, Mizzou is done at home, so In front of 917 fans on Saturday — many of whom were dressed in black and gold — there stood Earleywine in quite possibly his final game at home as the Tigers' coach.
After the final out, he shook hands with his dad and prior to waving, he looked up at the fans which included his former teammates, his former players, even parents of current players and it all sunk in.
"This is my home and I love being here, I love being the coach [of Missouri]," Earleywine said, mentioning next year. "I've thought about everything — if I stay, if I go — but I hope this isn't my last game here."