The PowerMizzou.com Post-Spring Depth Chart: Defense
For the first time since before Gary Pinkel, nary a depth chart was released before, during or after Missouri's spring football season. Because of that, PowerMizzou.com is taking a stab at projecting where the depth stands as the team heads into summer conditioning.
Today, we're looking at the defense. Yesterday, we projected the offensive depth chart, post-spring.
Again, this is very unofficial. Our projection is based heavily on the spring game (the only full workout we could see), interviews with players and coaches during the spring season, and talks with various sources off-the-record. With Missouri's depth chart being a moving target, this is obviously subject to quite a bit of change.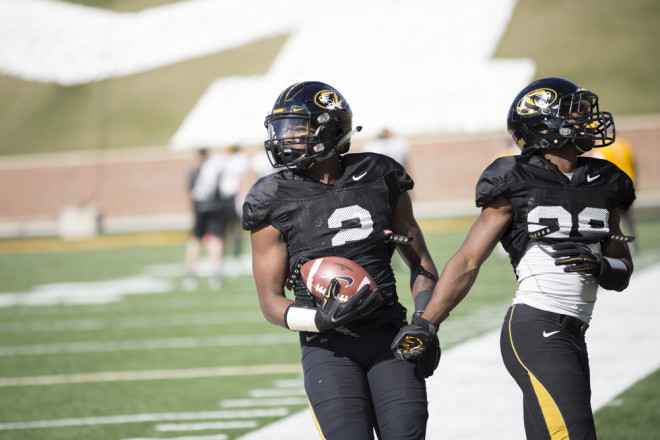 Defensive line
| DE | NG | DT | DE |
| --- | --- | --- | --- |
| Walter Brady | A.J. Logan | Terry Beckner, Jr. | Charles Harris |
| Marcell Frazier | Josh Augusta | Rickey Hatley | Nate Howard |
| | | Josh Moore | Spencer Williams |
Defensive line notes
Really, the only big surprise coming out of the spring game is that A.J. Logan got the start over Josh Augusta, but even that may not have been a huge shock. Augusta bounced in and out of the starting lineup last year, and Logan quietly put up a solid season and has (by team reports) improved even more. Missouri seems set in the middle, especially when Beckner returns from ACL and MCL surgery later this summer (most likely). His spot atop the defensive tackle depth is a projection; the real No. 1 there right now is likely Hatley.
Missouri has to wait for injuries to heal at defensive end, but after Brady (who doesn't need surgery for his sprained knee), Harris and Howard return, that group along with Marcell Frazier forms a very formidable top four. Even more good news -- Spencer Williams had more of an opportunity this spring, and that group continues to be Missouri's deepest, most talented collection of players on the roster.
CONFIDENCE IN DEPTH CHART PROJECTION: 9/10
Linebackers
| WILL | Spring Game Stats | MIKE | Spring Game Stats | SAM | Spring Game Stats |
| --- | --- | --- | --- | --- | --- |
| 1.Joey Burkett OR | 1 tackle | 1. Michael Scherer | 6 tackles, 2 TFL | 1. Donavin Newsom | 2 tackles, 1 TFL, 1 PBU |
| 1. Terez Hall | 2 tackles, 1 PBU | 2. Cale Garrett | 2 tackles | 2. Terez Hall | 2 tackles, 1 PBU |
| 3. Brandon Lee | 1 tackle | 3. Eric Beisel | 1 tackle | 3. Grant Jones | 2 tackles |
| 4. Trey Baldwin | 2 tackles | | | 4. Franklin Agbasimere | N/A |
Linebacker notes
OK, this one is pretty tough. Scherer and Newsom are two starters, even if Newsom did (briefly) lose his No. 1 job to Terez Hall. But Hall moved to weakside linebacker for the spring game, splitting reps with Joey Burkett. It seems like those four are the top four at the group, and Hall is a guy who could play both outside linebacker spots.
Cale Garrett was another young surprise this spring, and he seems solidly entrenched as the No. 2 MIKE linebacker behind Scherer. Brandon Lee fits in... somewhere. He played WILL this spring, but has spent time at all three positions.
SAM linebacker is tough to project, because I'm frankly not sure who else is playing there right now. At this point, we're guessing that Agbasimere fits in at No. 3, but that's very iffy.
CONFIDENCE: 4/10
Secondary
| CB | FS | SS | CB |
| --- | --- | --- | --- |
| 1. TJ Warren | 1. Thomas Wilson | 1. Anthony Sherrils | 1. Aarion Penton |
| 2. Logan Cheadle | 2. Cam Hilton | 2. Tavon Ross | 2. John Gibson |
| 3. Anthony Hines | | | 3. Finis Stribling |
Secondary notes
In another surprise, T.J. Warren started opposite Penton in the spring game, and DeMontie Cross was very complimentary of his improvement. Warren has good size for a cornerback, and he could very well hold onto that job through the fall.
Anthony Sherrils obviously has one safety spot on lock down; the other one is currently manned by Thomas Wilson, as Cam Hilton was limited by a hamstring injury on and off throughout the spring. That free safety position, as well as the corner spot opposite Penton, will be very interesting to watch through August.
CONFIDENCE: 6/10