Terry talks Mizzou commit
After committing to Mizzou on Saturday night Dallas (Texas) South Oak Cliff defensive end Marvin Terry told PowerMizzou in a text why he chose the Tigers. He said he felt like everything at Missouri was family oriented and built for the players to succeed.
In a interview with PowerMizzou on Monday evening Terry expounded on that reasoning.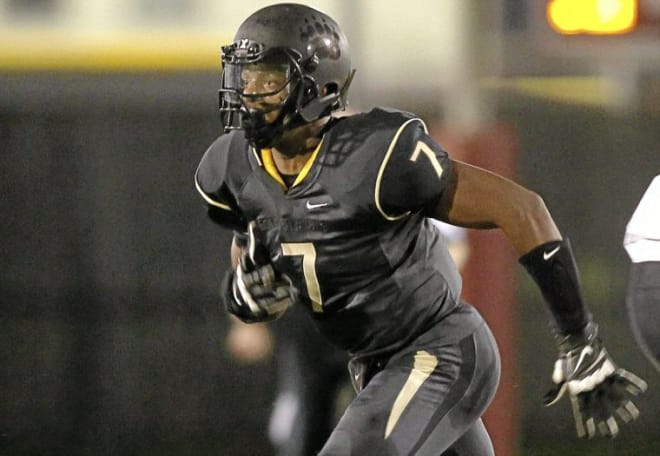 "It was just how everybody took me under their wing and made me feel comfortable," the number 23 ranked player in Texas said. "How the academic part is all set out for you. It's built for you to succeed. There is no way you shouldn't succeed at Mizzou.
"I definitely felt the love that everyone had for each other. It seemed like everybody there had each others back no matter what. There was just so much love," continued Terry.
Barry Odom and Ryan Walters made Terry a priority and visited the number 23 ranked weakside defensive end at his home a day after Odom was introduced as Missouri's new head coach. After that Terry knew Mizzou was likely going to be the place for him.
"Of course," he answered when asked if he felt like a commitment could happen on his official. "Playing in the SEC is big. Coach Odom was telling me about the 3-4 defense. We ran that during my high school career and it's perfect for me. He said we'll probably base out of 3-4 and I will play the up backer. I feel like I'll fit there because it is very similar to what we did at my high school."
Overall, the visit went as well as would be expected. Terry was hosted by linebacker Donavin Newsom and also hung out with fellow Texan Roderick Winters.
"They fed me good. Got me all fat," he said with a laugh. "Donavin is real cool. Even in that little time it felt like he had always been my big brother. It's crazy how it felt like that."
The commitment and then the commitment reaction from the coaches is usually pretty boiler plate when talking to a recruit. The player talks with the coach and the coach, understandably, gets real excited. All that happened with Terry's commitment too, but a lot more went into it first.
"It was funny how I committed," Terry began, "because I had told Coach Odom that I wanted to commit and he said, 'You got to be kidding.'"
After reassuring Odom that his commitment was in fact real, Odom asked Terry to pull a joke on Ryan Walters, his recruiting coach.
"We're going to tell him something happened last night so you want to leave right now," Odom said to Terry, hatching the plan.
Terry said that Odom "kind of made a scene" to get everyone's attention, and at that point, Terry walked to the back of the room, by himself.
"Then Coach Odom walked over with Coach Walters," Terry said. "I know how to play serious really good, so when we told Coach Walters, his face was priceless.
"He was like, 'Noooo!'," explained Terry while laughing.
Terry's host, Donavin Newsom, joined the group once he saw all the commotion.
"Coach Walters was looking at him like, 'What did you do?' It was funny. I couldn't take it anymore so I started laughing," Terry said sounding extremely satisfied with the prank.
After all that Terry finally told a relieved coach Walters he had committed.
"He said he was starting to sweat and his heart was beating fast," Terry finished with one last laugh. "It was pretty fun."
With his college decision behind him Terry will turn his focus to getting himself ready to contribute as a freshman.
"I'm most definitely getting myself in great shape so I can possibly come in and start or come in and get a lot of playing time," he explained. "Definitely need to work on becoming a student of the game. I think I can advance more in that area. Improving my technique too. Working on my speed. That's pretty much it."
Marvin Terry was the 16th member of Mizzou's 2016 class when he committed. Trevour Simms announced his commitment to Missouri earlier tonight bringing the class total to 17. The Tigers are currently 43rd in the Rivals.com Team Rankings which is one spot ahead of Nebraska and one spot behind Oklahoma. PowerMizzou will have more soon on what the commitments of Terry and Simms mean for the 2016 class.