Summer Sessions: Kevin Puryear
Over the next couple of weeks, PowerMizzou.com will talk to every Missouri scholarship basketball player in our annual series, Summer Sessions. The Tigers started summer practices last week. Today, we continue with sophomore forward Kevin Puryear.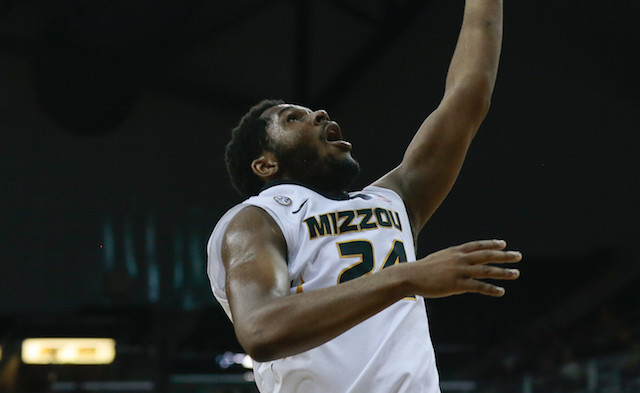 With a new strength coach, what's that been like?
"It's been a different transition than last year. Coach Michael, he's definitely getting after us. We've been getting after it in the weight room and on the court. It's just a whole different vibe and a lot faster pace than it was last season. I think we've done a better job transitioning into this week than we did last week. Weights and having practice and stuff was hard on our bodies last week, but I think we're more prepared and getting used to the flow of things this week."
Coach talked about the chemistry maybe being more evident than last year already.  Do you see that?
"Yeah, I would say so. Coach Anderson, I think he's putting more emphasis on unity and togetherness. Coach Michael in the weight room, he's the kind of coach that preaches no man left behind so that's the type of mentality that we take whenever we take the court or the weight room. Just small things like that. Always picking each other up, always encouraging teammates is something that is always talked about so that's something that we always want to put an emphasis on as well."
Out of the new guys, what have you seen?
"They're all impressive. I wouldn't say any of them are higher than the others. I do like what all of them bring to the table. Jordan Geist, he's a very crafty player. Frankie (Hughes) is a great shooter, Willie (Jackson) is really physical and Mitchell (Smith), he's really smooth around the basket. So they're all bringing things to the table that I'm really excited about and excited to see when November comes around."
Coach said he hopes the new strength coach makes you guys tougher. How can he do that?
"I would say coach Michael does a really good job, with me and Terrence especially, just teaching leadership. For me, at the high school level, I've always been one of the best players on the team so I kind of just led by example and the vocal aspect is something that I haven't always had. Those are things in this week alone that I've learned from him. He's just always very hard on us in the weight room. Quick transition between drills, never wants us to show weakness. If we're tired, he never wants us on our knees or anything like that because opponents pray on that. That's things we take seriously now and things that we pay attention to when we're playing."
There are some new guys, but since you've been through this for a year now, do you feel more comfortable?
"Yeah, I do. Last summer to this summer, last summer I was like a deer in headlights, didn't know what to really expect going into college. Now that I know things, the schedule part of it, it's really comforting to me. I put the work in, just doing my best to stay in shape. Now I can pass it down to the young guys and become more of a leader this season."
Are there things in your game you really want to work on this summer?
"Just refining my skills. I want to do more things off the dribble this year. I feel like I just need to expand my game more. I've been working on my shot every single day and working on expanding to the three-point line. My mid-range game was pretty good this past season, so just always work on that and continue to get better at the three-point line."
Coach talked about this team playing smaller, more spread out.  Do you think this group can adapt to that?
"We have the guys that have the skillset to do that. We also have guys that have the athleticism and quickness to do that as well. Villanova won a national championship doing it, so I'm pretty sure that we can play small and be effective doing it."
What does that mean for you, especially if you're playing the five?
"It's something that I've done before. I did it last season, I can do it again. It's not something that I'm really worried about or concerned about, not something that I lose sleep over. When the season comes around I'm going to be best prepared. Coach Michael's gonna make sure of that and coach Anderson's going to make sure of that. I know by the time the big games come that I'm going to be ready to play."
Do you have expectations for what you want to do this ear?
Of course my overall goal and something I've thought about since last year is just play basketball at the high level. It's something I always keep in the back of mind. It's actually kind of scary for me to listen to other peoples' expectations of me. I have a lot to live up to. Most freshmen start at the bottom and since I've set a foundation up here, it's kind of hard to meet other people's expectations. I'm just trying to do my best to not think about it and just play the game of basketball."