Spring Q&A: Tanner Owen
Throughout spring football, PowerMizzou.com has been speaking with a lot of the up and coming players on the Missouri roster. Today we chat with redshirt freshman offensive lineman Tanner Owen.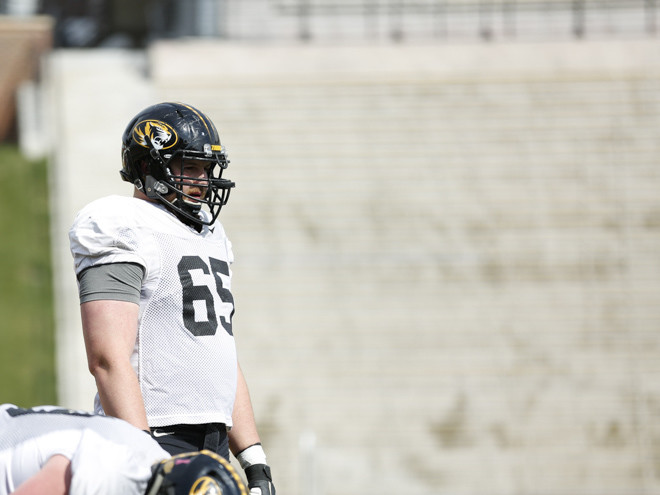 PowerMizzou: How long does it seem like it's been since you played a game?
Tanner Owen: "Senior year of high school, you know I redshirted last year, so it's been a while since I've been out in a real game situation. So it's gonna be a little refreshing to get back out there."
PM: Offensive line is a spot where you come in kind of knowing you're going to redshirt. Even though I'm sure you wanted to play, was that a good thing for you?
TO: "Yeah. I mean, definitely. I came in around 260 pounds and a 260-pound lineman in the SEC, he's not gonna do very well. So I needed the year to build up some strength and gain a little bit more weight."
PM: You make the transition to college and then you make the transition to a new coaching staff and a new scheme. How tough has that been?
TO: "You know, it's different, but with this coaching staff they try to keep it pretty simple with our offensive strategy. We're keeping it simple, the coaches are great. They teach everything really slow at the beginning so you really get a good foundation of it."
PM: What's the biggest difference between high school and college?
TO: "Definitely everything is a lot faster. With high school, you could get by with bad technique and just kind of overpower them, but here in the SEC you can't do that. You've got to have technique and power."
PM: Where are you mostly working?
TO: "I'm mostly working at left tackle and doing a little right tackle."
PM: Are those two different positions or are they pretty similar?
TO: "They're pretty similar. You've just got to switch your feet."
PM: A lot of Missouri fans haven't seen you play. Tell me about your game and where do you think you're ready and where do you think you still need to improve?
TO: "I definitely still need to gain more weight. I'll always need to do that. You can never get good enough with the technique, but I think I've improved quite a bit since I got here."
PM: The guy whose name always comes up that people are going to compare you to is Justin Britt. Have you heard that one?
TO: "Actually Josh Henson when I first got here, he actually made the relation to me and him."
PM: And I guess if it ends up the same place Justin is, that would be all right with you.
TO: "Yeah, I'd be completely fine with that one."