Spring football preview: Offensive line
Over the next week, PowerMizzou.com will take a look at the key story lines and players at each position group, ahead of the start of spring football. Today, we continue at offensive line.
Spring 2016 projected depth chart
| LT | LG | C | RG | RT |
| --- | --- | --- | --- | --- |
| Tyler Howell | Nate Crawford | Alec Abeln | Kevin Pendleton | Paul Adams |
| Tanner Owen | Malik Cuellar | Samson Bailey | AJ Harris | Clay Rhodes |
| | | Andy Bauer | | |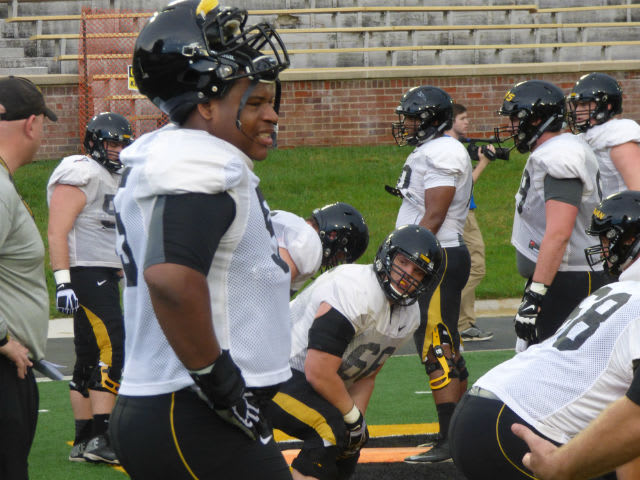 Who fills out the line?
After a year with inconsistent line play (to put it mildly), new offensive line coach Glen Elarbee has to completely revamp the offensive line. The only two returning starters are Alec Abeln and Nate Crawford, and it's a safe bet that they will be the starting center and left guard, respectively.
Other than that, everything is open.
Toward the end of the 2015 season, Kevin Pendleton and Paul Adams received more playing time; again, it seems safe to assume that they'll get first look at right guard and right tackle respectively.
But beyond that, Missouri's offensive linemen are largely a group that have seen no playing time. If Pendleton and Adams falter -- it could spell trouble for Missouri's offensive line. This spring will be huge in determining whether those four (Pendleton, Adams, Abeln and Crawford) will form the backbone of the offensive line for 2016.
The left tackle conundrum
For the third straight year, Missouri is without a proven left tackle. In 2014, Mitch Morse moved to left tackle and proved to be a very solid option. In 2015, it was Connor McGovern, and while he was one of Missouri's two best linemen, he was still playing out of position.
This year, there's no clear option.
The hope has to be that Tyler Howell, Missouri's biggest lineman, will be able to come in and fill that void after his transfer from Butler C.C. in Kansas. However, Missouri's history with junior college offensive linemen has been shaky at best, and Howell had to sit out last season as he finished his academic requirements; will he be ready to step up immediately?
Beyond Howell, the options are slim. Tanner Owen, a redshirt freshman, could get a look. Malik Cuellar, a former JUCO transfer himself, could get another chance there, but he has not yet shown himself to be a viable option. At this point, guys like Paul Adams and Clay Rhodes seem to be more suited for the right side.
So, hold your breath this spring, because all eyes will be on Tyler Howell.