Q&A: DeMontie Cross
Missouri named former Tiger DeMontie Cross its new defensive coordinator a few days before Christmas. Cross met with local media for the first time on Tuesday evening. Here is the full transcript of what he had to say.
How did you and Barry get together on this and what was your feeling on this job this time?
"We obviously have our history of playing together. Once he got in the profession on the coaching side I tried to be somewhat of a mentor to him. We talk ball a lot with one another. Then he had an opportunity at Memphis to try to get me down there a couple times. It was always just a real strong interest in getting together and working together. The timing just worked out for it to happen this year."
Was there any thought of (Odom) bringing you on here lsat year on the staff?
"Yeah, yeah. We talked. Things were going obviously really good at TCU at the time. Coach Patterson was really good to me and just appointed me to co-coordinator with the Coach Glasgow down there at the time. It was just a situation where the timing wasn't right. Every time Missouri had an opening I was always interested. I knew that it wasn't so much when I get there. I wanted to be there, but it had to be the right time. Coach Pinkel was always good to me and always addressed interest. It just never worked out for whatever reason. My career path continued to grow and I continued to be put in a lot of really good situations. It didn't work again last year but timing is everything."
Is this the place you always wanted to coach?
"Absolutely. I think for what the university meant to me as a student-athlete and my overall growth and development I knew that I wanted to have an opportunity to come back and contribute in some form or fashion. The program has been successful and I've been places where I've had a lot of success. But I felt like, why not go back home and try to take a program that's meant so much to me and get it back on top and keep it there?"
You played when the Big 12 was brand new and now you come into the SEC? How much has changed with this program since you were last here?
"Wow. Yeah, it's a complete facelift in a lot of aspects. I played in the Big Eight, the last year of the Big Eight and the first year of the Big 12. Now you're playing in the SEC. In the coaching profession, it's the conference everyone wants to get to. As you can see last night with Alabama representing the conference, it's the strongest conference in football. I'm definitely excited to get to know the league a little bit, try to address the challenges I have aeahd of me and make sure we get our guys playing at a high level."
Now, you couldn't have said that two weeks ago.
"No, I was dialed in on TCU ball and Coach Patterson giving me the opportunity to finish up. I knew I wanted to finish with those guys. I really believe that it was important that I finish what I started. I didn't want to be a guy who took a job and ran out and left not only the coaching staff but the players to fend for themselves. I was in the fight with them. We had to fight to win that last game, but immediately after the game I switched gears because I knew we had to get back in on our recruits and people knew where my heart and mind were at. Once that game was complete it's been all Mizzou."
Are you glad to be in a conference with a defensive reputation as opposed to the Big 12?
"Well, you know it's crazy. It's high-elite, profile offenses in that conference. It's a little bit more traditional. But there are teams that are going to be up-tempo and do some things that we'll have to defend similar to the Big 12. But having that experience and background, I'm hoping I can have that winning edge because I'm accustomed to it. I just have to get the players and the staff to understand what we have to do it and get the kinds to understand it, too, and educate them on what those teams try to do when they go up-tempo that way. But, yeah, it's nice to get back to a more tradiational style, but there are teams that are going to be up-tempo. I kind of watched it in the bowl prep and watching some SEC teams we'll play this year."
Have you talked to Barry about how you're going to divide responsibilities? Obviously he has a defensive background.
"We spoke briefly but not in a lot of detail — but just the meat of what he wants to do structurally. I've been so tied up with trying to get here with the move and get my family settled in here and also recruiting, we really haven't had time to sit down as a staff or me and him one on one to really hit the details of what we want to get done."
Structurally, do you consider himself attached to any kind of system? Are you a four-man front guy or what do you like?
"That's been my history. Coach Odom knows that. He wants to continue to do that. But I think we have to be multiple and do what it takes to take offenses away. Whatever we have to do structurally, we'll be simple and sound but we wont limit ourselves to a four-man front if we have to do some things differently. Btu that is my background that I've been part of pretty much throughout my career."
Do you know where your recruiting emphasis is going to be geographically or position-wise?
"I recruited Houston ever since I got into coaching, the state of Texas, but primarily Houston. So I think I'll have a bit of that. Coach Ford has done a pretty good job in St. Louis, which is where I'm from. But like I told him, I'm a team guy. Whatever element I need to help with or adjust in recruiting, I'm willing to do that. But obviously if there's an opportunity to help Coach Ford do some things in St. Louis I would welcome that by all means — or just in the state period. I'm all Mizzou. I take a lot of pride in the state and a lot of pride in the football. I've been to a lot of places where I understand that Texas football is the so-called place, but Missouri has come a long way in football with the athletes that have played here and gone on to play other places. We want to make sure we continue to get our players to stay home."
What was the reaction you got from coaches or family back in St. Louis when you told them you were taking the job?
"It was unreal. The people that were reaching out and sending a lot of 'congrats' and 'happy for you' and 'good to see you back,' it hit a level that I didn't expect, quite honestly. I didn't have a lot of contact with some folks that I played with, high school coaches, pee wee league coaches reaching out to me. It went really deep. Then some of the social media that was able to reach me. It was a really good feeling. It was humbling to know 20 years ago once the season starts that it's all come full circle. And I have an opportunity to come back in a leadership role is really a nice gesture and I'm really excited about the opportunity."
When you look at what the defense did last year ranking in the top 10 in a bunch of categories … how eager are you to take over a defense that was so good with so many pieces coming back?
"A lot of guys don't get an opportunity to come into a situation like this. Obviously Coach Odom did a tremendous job with the defensive guys. I've been trying to do a little studying here and there when I've been in the office. I want to make sure I can complement what's been done. When you hold teams to that many yards and that few points, he's doing something right. I'm just trying to figure out a good blend of what I know and what I'm comfortable with along with what's been done because these guys obviously believed in the system. Half of it is having continuity and belief in what you're doing. That's going to be my message and my job to get that message across."
Did you have much exposure to TCU's 4-2-5 before going to work with Gary Patterson and how does that background blend into what Mizzou will do here?
"I did not have that (background). I was primarily a 4-3 guy. Walking into that scheme and that program really opened me up to a lot of ideas. Coach Patterson, you can see why he has the pedigree and the respect in the coaching profession for what he does because he works tirelessly. He finds ways to exploit offenses I've never been around as a coordinator who's able to do that. The way he approached breaking down opponents and taking things away was very unique. So I didn't have that exposure. Once you can understand how he gets to some of the things he's doing, it's a really complicated defense to attack. It's able to be very multiple because of that fifth DB you play with all the time. We'll see if we can complement some things that I learned there. But that's a ways away. I have to get with my staff and Coach Odom first."
What's priority one heading into spring?
"Priority one is making sure what we want to have taught. Getting with my staff and making sure we're all speaking the same language. It's not so much about Xs and Os than it is making sure we're speaking the same language and on the same page and having those guys understand what my expectations are of them but also what they should expect of me. That's got to be ironed out before I can talk about Xs and Os."
Do you know any of those three guys very well?
"Coach Wilson I've gotten to know over the years through recruiting. We've recruited the same areas. I've gotten to play against him a few times in games, so I've always known of him. Coach Brown, Greg, I've known of through others I've worked with. Obviously, Coach Walters worked with Coach McCarney, who gave me my first opportunity as a young coach. That was kind of a connection right awy, having Coach McCarney hire me full-time in my second job really only after one year of coaching at Sam Houston. He took a chance on me as a young coach. As I'm getting to know Walters a little bit, I'm saying, yeah, Mac picks them. He picks really good guys that he believes in grows. He's obviously grown fast in the profession. Coach Odom brought him here an brought him here for a reason, so I look forward to working with all the guys."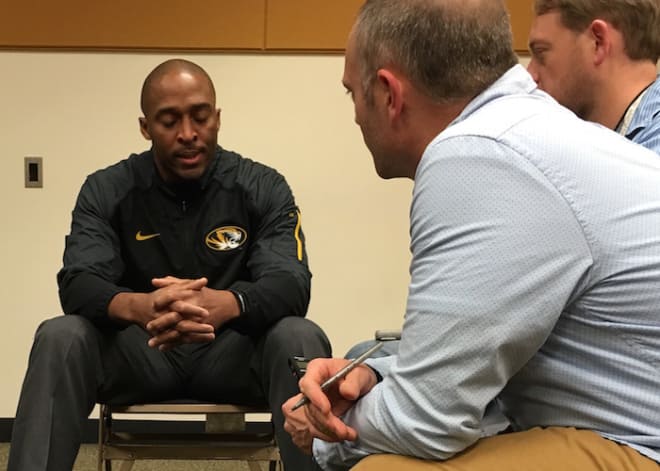 Back to recruiting Texas, how natural of a place do you see that being that Missouri should be recruiting? Because Missouri got away from that a little bit a couple years ago.
"Yeah. You know, I wasn't here to understand why that happened. I know that historically Texas has been good to Missouri. You have A&M there so you have somewhat of an SEC connection there. It makes sense, but it has to make sense to coach Odom. If it does, then we'll recruit it like crazy and we'll go down there and we'll stick our heels in the ground and go get them. There's plenty of players there. Having recruited there all those years and now having spent some time at TCU, there's not a doubt in my mind there's players there that can play and can help us win now. We've just got to get together as a staff and whatever coach Odom decides is what we'll attack."
How much chance have you gotten to sit down with the returning players? I know they've all been on Christmas break, but how many of them have you been able to talk to?
"You know, I talked to a few of them right around before my bowl game, so right around Christmas time, I got a chance to call a few of them. It was exciting to me to have those guys be excited to talk to me. I was a little unsure, you know, not having met them face to face. I'm kind of a face to face guy so I can get body language, see eyes, all those things are important to me. So just to hear the excitement in the guys' voice, I couldn't tell you all of them that I talked to honestly, but ran into a couple of them at the facility when I was here last week. I know Charles Harris. He was the one that I talked to on the phone and that I met in person so he's the one that I identify the most with. I look forward to working with them all. I talked to a few of them, like I said, just short, brief conversations and just kind of let them know that 'Hey, I look forward to being your leader and count on you guys to do the same. And whatever we need to do to keep strengthening our defense and our program, then let's do it.' I look forward to getting to kind of see what they think about what we have as a defensive unit, those guys kind of being the successors of the defense returning."
Have you talked with Harold Brantley at all and do you have any idea how he's doing?
"I have not. I have not met with him or talked to him. No contact on my behalf."
With Charles, he probably has the best chance of anyone of possibly leaving early. Have you guys broached that topic whether he's coming back?
"We've got to attack spring before we can talk about any other thing. We want to make sure we give him every opportunity to be successful this spring. We'll play the season, we'll play hard and those things always work themselves out. But first and foremost, I've got to see what I can do to improve his game and make sure he's a high caliber player returning for us."
You've had a couple jobs over the years, you've moved a few times. Does this process of the last three or four weeks ever get any easier or less hectic?
"Uh, no. No. Honestly, I think it's one of those things, I've been fortunate enough to have opportunity. Sometimes, more recently, it's changed a little bit more than I particularly care for. It's about opportunity. I've always believed I have to go where there's opportunity for growth and development. You know, what better stops to have than Wisconsin and TCU and now being back home? Those stops really showed me what championship football's all about. Not that I haven't had it at other places, but when you talk about this stage of being in championship games and winning conference championships, it's two of the better programs that I've been a part of."
A year ago, Barry was pretty open with us and told us he wanted to be a head coach. Is that your end goal as a coach?
"Absolutely. Yeah. I'll speak for myself. Didn't get into it, just to be a guy. Got into it to see how far it would take me. I know that after these years of coaching and having the ability to groom young men, on and off the field--I take a lot of pride in the development off the field just as much as I do on the field. I know we get judged by what we do production wise and wins and losses and things of that nature, but ultimately if I didn't have guys and coaches that took interest in me, I wouldn't be sitting here in front of you guys. So I don't shun that responsibility at all. I have a job to work the guys and to push them to levels that they don't think they can go to, but I also have a responsibility to make sure that they understand what education's about, what being a young man is about, what taking care of your responsibilities are about. In all aspects, I've grown a lot over my time. I'm back to make sure that filling this role and this position, I cover all aspects of my responsibilities and not just ball."
What do you remember about Barry as a player?
"You know, we tease each other. We just called ourselves kind of broke down players. It didn't matter. It didn't matter what we had to do to play, we were gonna play. And it didn't matter if we had, it just didn't matter, injuries, aches and pains. He was the kind of guy that reminded me of me as a young guy. I was a senior going out and he was a freshman, but he was gonna do whatever he had to do to contribute to his team. From that standpoint, we're likes. That's what's been the draw with both me and Barry. We've kind of had a draw to one another because of our pedigree. We think similar, we both have the winning edge about us and we're gonna do whatever it takes to get our kids prepared. I've watched his growth and development and really, really been impressed with it."
The program was just on the cusp of starting to win with coach Smith when you left. How different do you think it is now, how it is perceived, not just in the conference but nationwide?
"People identify with Missouri football. Everywhere I go. It has a brand and identity. I see it when I'm out on the road recruiting, I've felt it when I've been watching them on TV. There's an identity and people want to know what it's about. I think, you know, now being here, I have a chance to kind of be a flagship, as well as the rest of the staff, about what we represent and what we want to do. Back when I played, we played hard. They went on to win a couple years after I finished, but people were still wondering about where Mizzou football was and what it was. Without a doubt, it's been a building block, it's been a foundation that's been laid. I have to think that it was laid with coach Smith, but coach Pinkel came in here and strengthened it and built everything else about what he wanted with the program and without a doubt, it's a brand."
Where can it go to?
"As far as we want to take it. I really do believe that. As far as we want to take it. I think coach has put together a staff of guys that obviously have the same belief and thoughts and drive of what he has and it's up to all us to bond and come together to figure out how to do that. I just know I have to do everything I can to strengthen our side of the ball and my defensive staff. We'll do everything we can to ensure that we're playing championship football."
I'm going to guess as a coach, you're hoping not to have a guy that plays safety have to make 400 tackles in three years.
"You know, hopefully he doesn't have to. We hope our front will be strong and not let that happen. The thing that I want to make sure is that we're all playing together. Everybody has to do their job. I'm big into do your job. That's one of the sayings that I've preached throughout my years of coaching. We're all a piece of the puzzle. We just need you to be your 1/11. That's all we need you to be. You be your best 1/11 and good things are gonna happen. The more guys that do their job, the better chance we have to be successful."
Have you had a chance to look at what areas of the defense you think are strengths?
"I have not. I know just from watching and just from others' opinions, I know that there should be strength in our defensive front and that's a good sign. But I have not had a chance to really sit down and study and watch just because, like I said, I finished last week and I've been going ever since. I have not had a chance, but I look forward to finishing up the recruiting season and then quickly followed by figuring those strengths and weaknesses out right away."
Do you know Josh Heupel very well and what you can kind of expect from the other side of the ball?
"Being in the conference, you know, Big 12 and playing against him when he was at Oklahoma, that's really about it. We've had a little bit of time in the office, but no. Obviously, good football mind, has had a chance to be championship football at the highest level so he's going to bring a very nice pedigree as well to the staff. I'm excited. I'm excited to have him. I know that they did a lot of great things at Oklahoma while he was there and didn't get to follow him as much at Utah State, but they made us work all night at TCU getting ready for them. I promise you that. I hope he can do that to some other coordinators as well."
The bowl game, it being your last game and going down the way it did, what were the emotions of that night like?
"If I'm honest, I thought, 'I stayed around for this?' I mean, really, that was a natural thing. But in the end, I knew, just kept telling my guys, 'We're not playing the way we practiced.' At TCU we practice at a high level and I knew we had something better than what we were playing, so all I wanted the kids to do was to go out and play the way they had practiced. That was the thing that we all hit at halftime. Coach Patterson was great with the kids and we just said, 'One series at a time, but let's play Horned Frog football.' That's a testament to what he's built. You don't come back from 31 points against anybody in a half if you don't have a foundation. And coach Patterson has a rich tradition, a foundation of winning football. Those kids were great and that was the reason I stayed around and that proved it to me. That was the icing on the cake for me. Watching them come out and play the way we did as a team was truly the icing on the cake for me. Hey, your job is done here. It's time to move on."