Penton ready for big senior year
Missouri cornerback Aarion Penton entertained the idea of the NFL Draft. He decided to listen to his evaluation, though.
"They just said it's best for me to come back and try to be a first or second-round pick," Penton said. "The sky's the limit from now on and (I'm) just trying to be positive and be a great leader, and expect big things this season."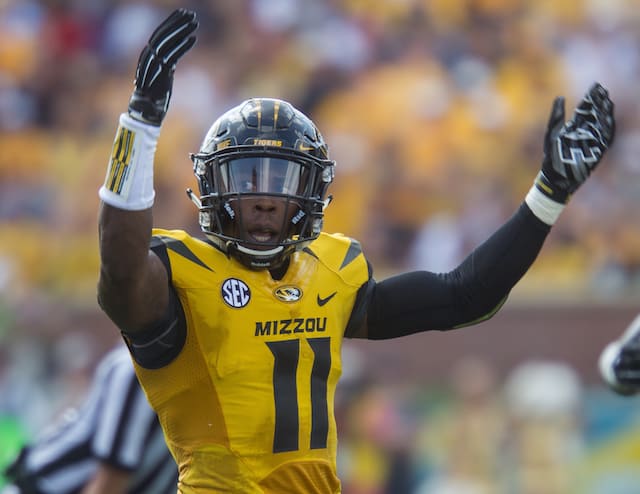 Penton has been arguably Missouri's best cornerback the past two seasons, after receiving considerably playing time as a true freshman in 2013. Last year, he had 59 tackles, one interception, eight pass breakups and a forced fumble. For his career, the rising senior from St. Louis has five interceptions and 19 pass breakups.
His return is with a new coach calling the shots, but for the entire defense and for his position. Greg Brown arrived from Louisville to coach cornerbacks; DeMontie Cross is the new defensive coordinator.
Penton said a big difference in the cornerbacks this season is what they're called on to do.
"I'm not needed in the run game at all," Penton said. "Just really focused on guarding key receivers every game and just worrying about that, just taking them out the game.
"The corners really are just locked on the receivers, trying to take them off the play, not worrying about the run game."
It's a change that Penton said suits the group.
"We're all fast, speedy guys," Penton said. "I feel like it's easier for us because we just have one job. Coach Cross tells us if everybody does their job, then we'll be successful. We just have to focus on just looking at the opposite hip of that receiver."
For now, Penton is just playing a true cornerback position. Last season, he moonlighted as Missouri's nickelback, going against slot receivers and working in the box to help in the run game. It's a position that Penton said he enjoyed playing, but he's not sure if he'll be back there for 2016.
"They haven't even put in a nickel package yet," Penton said.
Penton said after Missouri's season-ending loss to Arkansas that he would only leave if he got a first or second-round evaluation. On Thursday, he said he didn't know what to expect from the evaluation, but he had the support of his former coach, Gary Pinkel.
"Coach Pinkel told me whatever feedback I got, he would be honest with me and give me the right, lead me to the right way," Penton said. "That was just to come back and play my last season."