Mizzou spring football preview: RB
Over the next week, PowerMizzou.com will take a look at the key story lines and players at each position group, ahead of the start of spring football. Today, we continue at running back.
Spring 2016 projected depth chart
| Name | HT/WT | Year | Stats/ Notes |
| --- | --- | --- | --- |
| Ish Witter | 5-10/190 | Jr. | 126 carries, 518 yards (4.11 YPC), 1 TD in 2015 |
| Chase Abbington | 6-2/215 | RS Jr. | 6 carries, 39 yards; did not receive a carry over final six games. |
| Ryan Williams | 6-0/180 | RS Fr. | Redshirt in 2015; traveled with team in event of injuries. |
| Trevon Walters | 5-10/200 | RS So. | Torn ACL, missed all of 2015. Status still unknown. |
| Marquise Doherty | 6-1/205 | RS Fr. | Also playing baseball; split between two sports is unknown. |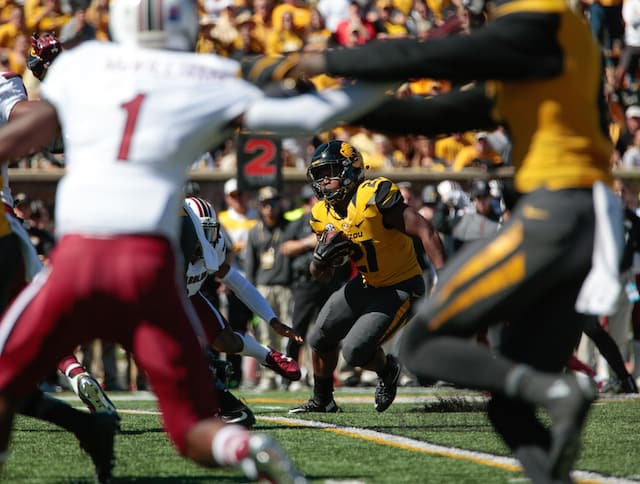 1. Will anyone step up?
Ever since Russell Hansbrough went down with an ankle injury on his first carry of 2015, the opportunities have been there for younger players to grab a hold of the position.
At the end of the season, no one had, leaving a very large and looming question mark for 2016.
Ish Witter did improve as the year went on, but he seemed to do his best work in a solid rotation, and hasn't shown the ability to be THE guy for Missouri in 2016. Chase Abbington arrived late to Columbia in August, took time to get in shape and grasp the playbook. However, for reasons not explained, he did not play after the Florida game. Abbington's talent is evident, but the question is if his work ethic and focus will help him get back into the rotation.
The bottom three guys on our depth chart are relative unknowns. None of them played; the status of Trevon Walters going forward is still unknown as he tore his ACL last spring and missed the entire season. By comparison, safety Tavon Ross tore his ACL around the same time and still played early in the year, before tearing another ACL against Mississippi State.
With no early-enrollees slated to join the team at the position, these guys will have a head start in forming a rotation. Will any of them actually seize that opportunity?
2. How much will we see of Marquise Doherty?
Doherty is the first two-sport signee for Missouri in some time, as he's also playing baseball. He's a back-up outfielder on that team, and his time management between the two sports has not been explained. Will he be able to practice with the football team and play baseball at the same time, or will he stick to one sport or the other?
Doherty showed some flashes in preseason camp with a few powerful runs, but he got far fewer carries than Ryan Williams, the other 2015 high school signee at the position.