Mizzou spring football preview: QB
Over the next week, PowerMizzou.com will take a look at the key story lines and players at each position group, ahead of the start of spring football. Today, we start at quarterback.
Spring 2016 projected depth chart
| Name | HT/WT | Year | Stats/Notes |
| --- | --- | --- | --- |
| Drew Lock | 6-4/ 205 | So. | 129-263 (49%); 1,332 yards; 4 TDs, 8 INTs |
| Marvin Zanders | 6-1/ 185 | RS So. | No stats accumulated |
| Jack Lowary | 6-4/ 215 | So. | JUCO transfer |
| Zane Jacoby | 6-4/ 205 | RS Fr. | Walk-on |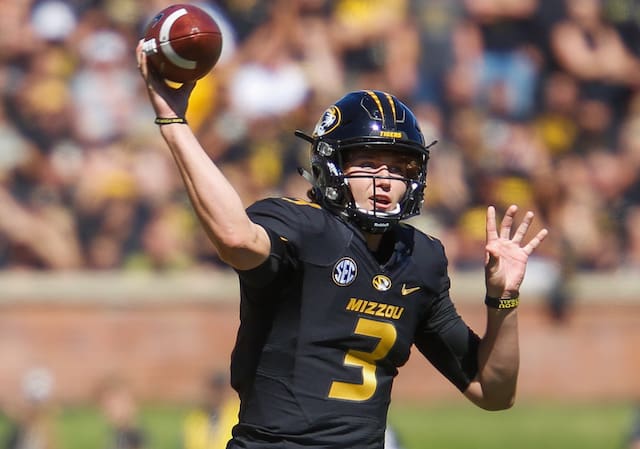 1. Has Drew Lock improved?
In preseason camp, Drew Lock looked fantastic -- relaxed, smooth, accurate and proficient in Missouri's offense, carving up Missouri's top defense by the end of camp. By that time, the staff had to move him to No. 2 on the depth chart, thus ending any chance of a redshirt.
Lock received limited snaps for the first part of the year, and the results were promising if mixed. But, after the first suspension of Maty Mauk, Lock became the starter. In his first game, he was efficient if not spectacular, running a safe game plan in a win over South Carolina. In retrospect, no one quite knew just how bad the Gamecocks were at the time.
From there, the season went downhill, both for Lock and Missouri. The lone bright spot was a 244-yard passing day in a win over BYU. But, at the same time, Lock injured his shoulder and struggled in the final two games.
There are plenty of reasons for Lock's struggles, but the biggest one has to be experience. Lock looked rattled by the end of the year, forcing his throws and letting fundamentals slip. As his performance in preseason camp showed, he has all the attributes of a top-flight quarterback. A source told PowerMizzou.com that he's put on about ten pounds and his shoulder has healed; the question, now, is if Lock will bounce back mentally from a tough debut and grab the starting job this spring.
2. Will Marvin Zanders get a chance?
After Maty Mauk's season effectively ended after the Kentucky game, it was Drew Lock or bust for Missouri's offense -- and that's even with three other (older) scholarship quarterbacks on the roster. Now, two of those quarterbacks are gone. Corbin Berkstresser graduated; Eddie Printz will transfer to Texas State.
Marvin Zanders remains.
Zanders only received work in one game, against Mississippi State, and it was just a read-option scenario. The question as to why Zanders or Printz never got a meaningful shot last year is still confounding, and we're likely to not get answers as a largely new staff has rolled into town.
Josh Heupel has used different kinds of quarterbacks in his offenses before, as he's used pocket passes (Sam Bradford, Landry Jones) and dual-threat guys (Trevor Knight). Zanders can make plays happen with his feet, but his accuracy and throwing has improved, from what we've seen in open practices from his freshman year til now.
But, after getting ignored by the old staff, the biggest question is whether Zanders will get a meaningful shot to compete for the starting job this spring.
3. Is Jack Lowary more than just a body?
After Eddie Printz announced his transfer, it was clear that Missouri needed another scholarship quarterback for this spring. After signing day, the Tigers got the commitment and enrollment of junior college transfer Jack Lowary. He certainly has the ready-made size to be able to compete physically this spring, but he'll have to show he's more than just a body on the depth chart.