McWilliams' departure and what it means
On Tuesday, a Missouri team spokesperson confirmed that redshirt sophomore defensive end Rocel McWilliams has left the team. PowerMizzou.com takes a look at what it means for the Tigers' defensive line.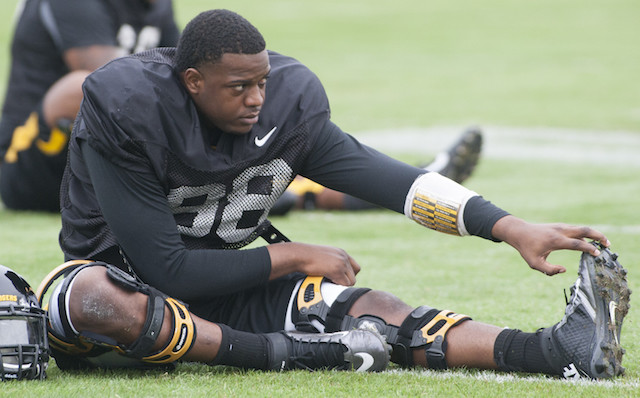 In the 2014 recruiting class, Missouri signed two players from West Florida Tech in Pensacola, Fla: receiver Lawrence Lee and defensive end Rocel McWilliams. Offensive guard Nate Crawford, from the 2013 signing class, is also from West Florida Tech.
Missouri dismissed Lee for a violation of team rules during his freshman year in 2014, after he appeared in eight games. It's unclear where Lee landed after his dismissal.
McWilliams left the team following Saturday's spring game, in which he recorded a sack. He redshirted in 2014, but did not appear in any games in 2015.
A team spokesperson said there are no details on what McWilliams' current plans are, beyond that he left the program.
McWilliams was a 5.5 three-star recruit, according to Rivals.com, in the 2014 class. He committed to Missouri on April 20, 2013 -- coincidentally, the date of Missouri's spring game that season -- but late interest from Florida made him briefly open up his recruitment, before signing with the Tigers that February.
His departure leaves Missouri with five scholarship defensive ends currently on the roster. Here is the look at PowerMizzou.com's current defensive end depth chart.
Projected DE depth chart
| DE | 2015 stats | DE | 2015 stats |
| --- | --- | --- | --- |
| Walter Brady (RS SO) | 40 TKL (12.5 TFL); 7 sacks; 7 QBH; 1 INT | Charles Harris (RS JR) | 56 TKL (18.5 TFL); 7 sacks; 10 QBH; 2 FF |
| Marcell Frazier (RS JR) | 18 TKL (6 TFL); 2 sacks; 4 QBH; 1 FF | Nate Howard (SO) | 12 TKL (2 TFL); 1 QBH |
| | | Spencer Williams (RS SO) | 2 TKL |
What it means for 2016
Given the fact that McWilliams did not appear in any games during the 2015 season, it was unlikely that he would fit into Missouri's 2016 plans beyond adding depth at the position. Missouri is not scheduled to lose any defensive ends after this season, although Harris, Frazier, Brady and Williams are all draft-eligible.
It's probably most likely that Harris leaves for the NFL after this season, if he stays healthy and has a strong season. Brady, too, could be a candidate after being named a freshman All-American in 2015.
Unlike running back and offensive line, there's no urgency to add another defensive end for the 2016 season. Missouri brings in one defensive end this summer in four-star signee Tre Williams. McWilliams' departure makes it more likely that Williams sees playing time as a true freshman, however.
What it means for 2017
PowerMizzou.com recruiting editor Brian Austin predicted Missouri to sign one defensive end before McWilliams' departure. That was based on the likelihood of losing Charles Harris to the NFL Draft. Now, that number could double to two.
However, Missouri will lose three defensive tackles after this season in Josh Augusta, Rickey Hatley and Harold Brantley, so we were anticipating more interior linemen signed in the 2017 class. It should be noted, though, that the Tigers have offers out to 21 defensive ends and only six defensive tackles, so we might be under-projecting the defensive end position at this point.