McCann ready to earn spot
Tucker McCann's official visit to Mizzou was more of a formality then anything else. He is very familiar with Columbia having been on campus numerous times as a recruit and with his sister being a student at Missouri.
Despite that McCann still headed home from his weekend impressed by his future home and future head coach.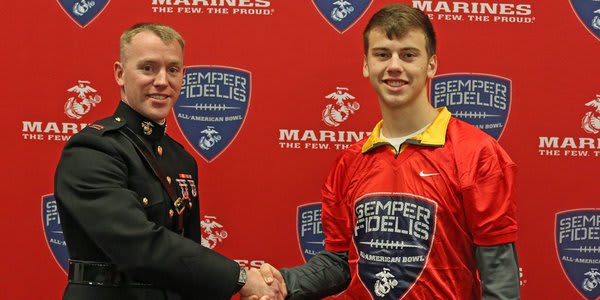 "I've been over to Missouri a lot before. It was really nice going there with [Barry] Odom being the new coach now. Meeting his family and going in his office to talk with him. It was really nice," explained the number three ranked kicker.

Early last week Odom was in O'Fallon for an in-home visit with McCann. The 39th ranked player in Illinois didn't expect anything to change on campus and was reassured seeing coach Odom in his element at the Mizzou football facilities.
"It was really nice seeing that. See a little more of what he'll be like when I get to Mizzou," said McCann. "I was sure nothing would change, but it's still good to see it first hand."
McCann is set to begin his Mizzou career when school resumes in January. As an early enrollee there are certain requirements that need to be met and according to McCann he is right on track.
"They went over everything I have to do to enroll early and everything is pretty much taken care of right now," he said.
When McCann committed to the Tigers back in early June it wasn't solely because of the opportunity to step right into the starting role at kicker. He is looking forward to the chance to compete against Missouri's returning kickers, though.
"They didn't give me any specifics really. They didn't say 'You're going to come in and start' or anything like that," said McCann about his talks with the coaches in regards to what they expect from him. "It's a big time college program so I'm not expecting to go in there and have the job handed to me. I'm expecting to go in there and work my hardest to become the best player I can be. Hopefully that'll be enough to win the job."
Andrew Baggett, who McCann will likely be replacing, and Corey Fatony, who started as a true freshman and won all-american honors, are who McCann spent the majority of his time with while on his official visit.
"I was hosted by Andrew and Corey. We got along well. We're all pretty close already," he said. "Me, my dad and Andrew actually played some golf. Corey came along, but he doesn't golf that much. We played nine holes at A.L. Gustin and that was really fun."
On Saturday, McCann ended his official visit a little early so he could travel to St. Joseph, Mo. and compete in Jeff Wolfert's kicking camp.
"It was called the College Prep Showcase. It was a lot of fun and there were some really good kickers competing," explained McCann. "We had charting sessions for kickoffs, punts and field goals. After that we did a field goal competition and a punt competition. I won the field goal competition."
Before McCann leaves home for Mizzou he has one more event as a high schooler. Earlier this year he was selected for the Semper Fi Bowl which will be held on January 3, 2016 at 8:00 PM CST in the Carson, Calif. StubHub Center.
"It's an extremely huge honor to be a part of it. To be selected for the Semper Fi Bowl," said McCann who was presented his jersey on December 8. "I'm just really excited to go out there and interact with the players. Just see all that talent out there and be on a team like that. Kind of like what I'll have at Mizzou."