Looking Ahead: 2016's top stories
On the final day of 2015, we looked back at the biggest stories of the year gone by. Today, we take a shot at predicting some of the 2016 headlines we'll be talking about a year from now.
Barry Odom gets the Tigers back to a bowl game: We're not going to predict a jump to ten wins or a return to Atlanta in Odom's first year. The roster still has issues and the schedule isn't so easy with trips to Florida, Tennessee, LSU, South Carolina and West Virginia. But the Tigers will avoid some of the chemistry issues they had this season and the offense should at least be in the nation's top 120, which will get Mizzou to at least seven wins.
Kentrell Brothers is the highest NFL Draft pick: I've got no idea where he'll go. I'll take a shot in the dark and say he's a mid-second rounder. I have no idea if that's even kind of accurate.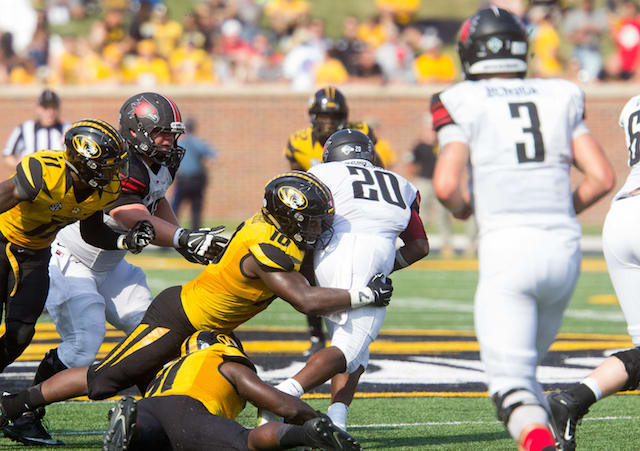 Wrestling improves on last year's finish: The Tigers had a phenomenal regular season capped by a disappointing NCAA Tournament. We'll say Brian Smith's crew wins the MAC and gets back in the top three in the national tournament this year and J'Den Cox wins his second individual title.

Baseball led by all-American pitcher: Tanner Houck was one of the best freshmen in the country last year. Houck went 8-5 with a 3.49 ERA and was a unanimous freshman all-American. Take the freshman out of that honor this year as Houck is the Friday starter and leads the Tigers back to the NCAA Tournament.
Robin Pingeton makes her first NCAA Tournament: The Tigers aren't going to end the year unbeaten. In fact, they may not survive the first week without a loss as Tennessee comes to town on Monday. But led by freshman all-American and all-SEC pick Sophie Cunningham, the Tiger women will return to the NCAA Tournament for the first time in a decade and the foundation of the program is solid.
Ehren Earleywine making headlines again: The Tiger softball team will be good again and should make the NCAA Tournament. Whether or not it can make a return to Oklahoma City and the Women's College World Series, you can bet the most quotable coach on campus will say something that makes us all pay attention. We certainly hope so.
Michael Porter will sign with...: No idea and not about to make a prediction. But you can bet it will be one of the hottest topics on Mizzou message boards for the next 11 months.
Kim Anderson will return for the 2016-17 season: Yes, there needs to be some improvement to make this one happen, but we think it happens. And if we didn't take a stab at this prediction, you'd be asking us why not. No Missouri team will boycott a practice: This one's a wish more than a prediction, although we feel pretty safe in predicting it as well. Here's to a 2016 where we spend more time talking about what happens on the field than off of it.