Key Quotes: Spring Football Week 1
Over the course of Missouri's spring football season, PowerMizzou.com will recap each week of action with what we believe are the key quotes from the previous seven days. Today, we take a look at the open practices on March 8 and March 12.
Some of these quotes have been used before in previous stories.
Drew Lock, on how he views the 2015 season...
"It's a little bit of both, but I was definitely more disappointed. You had to kind of dig up the things to learn from, because you were so disappointed in the way I performed, and let people down or what not. Working to build an image of yourself to be that guy, and come in and everyone changes their identity about you. We'll grow that back up and get it to where it always should be."
Barry Odom, on the increased pace of practice...
"I want to move with urgency. If we get through the scripted plays when we get through, then we're calling it. If we get the work in we needed to, then we're going to get done. If it doesn't look right, then we'll start over and keep going. It's a lot of it on our coaching staff, and on our players, we've got to get them in the right spots."
Michael Scherer, on Odom's intensity...
"Odom? Oh yeah. He's not scared to yell at someone. He's not scared to get involved. He wants to coach. So, standing at midfield and just looking around is not his deal. He's going to get in, he's going to want to run around and do everything.
"Intimidate me? No. No. Uh-huh. You can tell him I said that, too."
Donavin Newsom, on the changes in the defense...
"More responsibilities. You have to know different positions, because for the inside linebackers, they've got to flop sometimes. SAM is considered a safety now so we're mainly coverage, which I did a lot last year, so that's more comfortable for me. Terez Hall, he's doing a good job at playing SAM, too, so it's really not that much different, just besides the interior."
Kendall Blanton, on the importance of the tight end position in Josh Heupel's offense...
"I feel like we're second to the quarterback. Just knowing everything we're supposed to do, whether we spread out wide or in the backfield, playing a fullback-type, coming up and making blocks, making the calls to the o-line, we're doing all of that."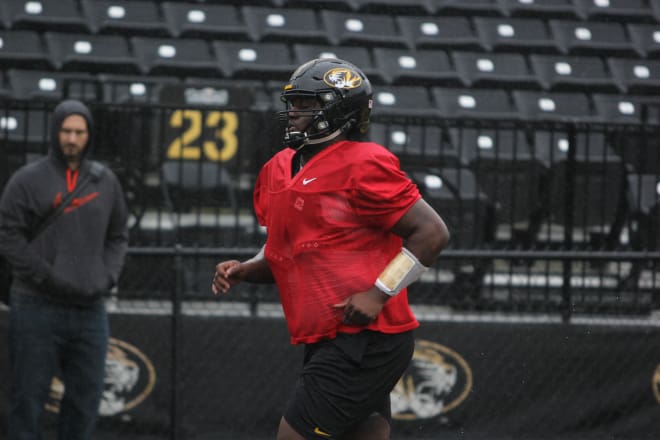 Terry Beckner, Jr., on trying to stay positive after his season-ending injury....
"It was most definitely, it was hard to stay positive because I never had an injury until that, BYU game. It just, as far just transition-wise, because I had never been through an injury, it's pretty tough. Physically, you'll be alright once you get back into action, but it's just your mental prospects. It tears you down a little bit. But once you get to rehabbing it and get back to doing the things you were doing before, you'll be straight."
Defensive line coach Jackie Shipp, on if the talent he has on the line makes his job easier...
"No. Nothing, because you all expect a whole lot more when there's talent on that defensive line. So, no, it doesn't make it easier, but it's a good product to work with. It's a great product to work with. But a lot's expected of you so you have to get the job done."