Clark leads Mizzou again
Mizzou has had nine players hit double figures in at least one game so far this season. All eleven scholarship players have had at least eight points in a game and four different Tigers have led the team in scoring. But as Mizzou ended the non-conference season with an 81-50 win over Savannah State on Saturday, something different is emerging: A go-to guy.
"With this team, you're gonna have a number of guys that could be our leading scorer on any night," Ryan Rosburg said.
"I think every team would like to have that guy, when the stuff doesn't work, that you can give the ball to and he can make a play," head coach Kim Anderson said.
In his last three games, junior guard Wes Clark has been that guy. Clark has made 20 of his 33 shots and is averaging 18 points per game over the last three. That culminated in a career-high 22 on Saturday as Clark made all but one of the ten shots he took from the floor.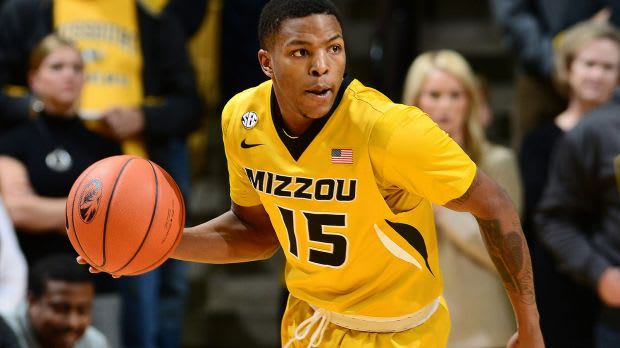 "The shot's falling," Clark said. "Still taking the same shots. But, really, we're all playing good. Just happy for the W."

"This is the Wes we all know and love," sophomore Namon Wright said after his own first double-figure game since December 4th. "He didn't play the best he could a couple of games throughout the season. He's got it going."
The run started in the second half against Illinois. Missouri used a 15-0 run to slice a 20-point deficit to five. The Tigers fell short in that one, but Clark showed off his game and some on-court confidence that had been absent through the season's first ten games.
The 21-point outburst against the Illini was Clark's first double-digit effort since November 17 against Xavier. In the seven games in the interim, he scored just 47 points total and shot 28.3% (15-53), including 4-of-16 from three-point range. He made more than half of his shots just once in those seven games. Clark insists there was no major change, no gotcha moment, that has led to his recent success.
"I will keep the same aggression, doing whatever it takes for our team to win," he said.
To be fair, the increased production has hardly come against the meat of Mizzou's schedule. Arkansas-Pine Bluff and Savannah State rank near the bottom of 350 Division One teams in most rankings systems.
"These last two games are teams that we should beat," Anderson said. "I'm not gonna sugarcoat that, no disrespect intended to the opponent. But I think the way we've done it's been good and maybe it's given us some confidence."
Men wandering through a desert don't complain when they come across lukewarm water. Missouri needed wins, no matter who they were against. That the last two came by a combined 84 points is a nice bonus. Because things are about to get tougher as the Tigers start SEC play on Wednesday night at Georgia.
"They're a really good basketball team and every game we play from here out is gonna be tough," Anderson said. "It's hard to replicate what's gonna happen on Wednesday night in Athens, Georgia to a freshman. I think we're better as a basketball team, but we'll see what happens on Wednesday."
"We're riding high," Wright said. "We're just trying to stay confident and play together as a team. As long as we stay confident and do that, we'll be fine."
Clark will lead Mizzou into league play and the Tigers will ride him as long as they can.
"We're just looking for the hot guy," freshman K.J. Walton said. "Wes is the hot guy right now, so we'll go to him. If it's Namon, if it's me, if it's Terrence, we'll go to the hot guy."