2016 Tiger Mailbag: 20th Edition
Each week, PowerMizzou.com publisher Gabe DeArmond answers questions from Tiger fans in the mailbag. This format allows for a more expansive answer than a message board post. If you missed this week's mailbag, keep an eye out next week or send your question to Gabe at powermizzou@gmail.com. On to this week's entries.
none**** asks: Heard that within the past couple months Harold Brantley made enough progress in his recovery to offer a glimmer of hope of a return to the field this coming season. He said HB was well over 245 now and dedicated in his work. Having seen him during the past season, I doubted it likely he could ever play again. Any news on Brantley you/they can share? I am hoping for a miracle.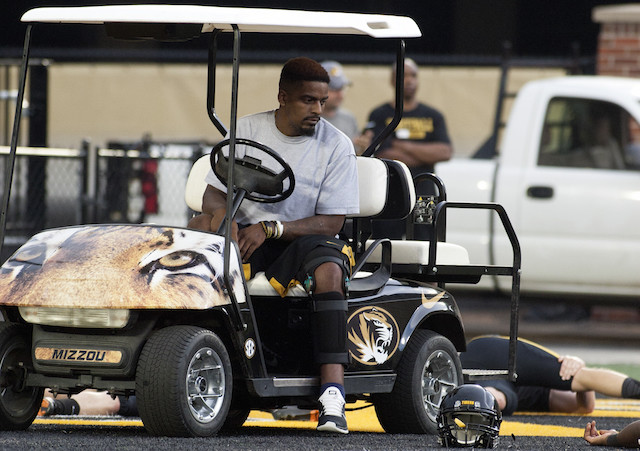 GD: Someone posted that Odom said at a booster club meeting last week Brantley could be the best comeback story he's ever seen. It sounds like things are going well. But the question for me would be what position Brantley plays. The word was, as you said, that he was at 245. Last time I saw him, in the spring, he looked lighter than that. Can he add enough weight--and in a good way--to play inside? I remain skeptical of that. It seems to me if he plays, he's going to do so as a defensive end. Which is what we were told he wanted to be even before the car accident. I'm sure Odom will be asked about him at SEC media days next month.
mexicojoe asks:  Do you anticipate doing a sit down interview with Tim Jamieson and if so when will that be?
GD: I have put in the request (think I did so early last week), but no, I'm not optimistic that it's going to happen. At least not until Jamieson's role for the future is determined, if there is one.
10sfan asks: Have a recruiting question for you. Let's use Michael Porter as an example. Would it be possible for Porter to say to mizzou "I am coming to your school but I am not signing a letter of intent" so that he could leave the program immediately if the coach was fired, resigned etc. ' I have heard of some players signing financial aid papers only but I don't know if and how That would apply in this case. Is it something as simple as Porter getting A written agreement from the school that he will be let out of his letter of intent within 24 hours of been asking for under any circumstance.? Is there any other way for a recruit to protect themselves?
GD: Sure, that's possible. Signing a letter of intent is not a requirement. Most players do (and a lot of them are probably under the impression it's a requirement). And, honestly, for the vast majority of kids, it's a good idea. Once you sign that, you're locked in to the school and the school is locked in to you for a year. But for a kid like Porter, he doesn't have to have the school locked in. If he doesn't sign an LOI, basically the school wouldn't HAVE to take him. But there's no school in America who isn't going to take that kid at any time he decides he wants to come. Honestly, if my son were a top 25 player in basketball or a top 100 player in football, I'd tell him NOT to sign one.
Signing scholarship papers locks the school into the player, but not the player into the school until he actually shows up and attends a class. You can sign scholarship papers with as many schools as you want to. Again, most schools and coaches aren't going to let the vast majority of kids do that because it's a sign that maybe the kid isn't sold on his commitment. But for the elite kids, they'd let them do just about anything they want.
So the short answer is, yes, Porter could do that with Missouri or any other school he wanted to.
TgrWeir asks:  Who do you think will be the Tigers top 3 scorers next season? Who will be the starting 5?
You must be a member to read the full article. Subscribe now for instant access to all premium content.
Members-only forums

Predict prospect commits with FanFutureCast

Exclusive highlights and interviews

Exclusive coverage of Rivals Camp Series

Breaking recruiting news